Challenging Issues in Child Custody Disputes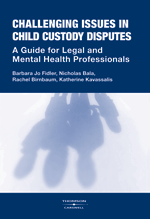 Challenging Issues in Child Custody Disputes
This detailed manual provides best practices in conducting and participating in child custody assessments in situations that involve high domestic conflict and special challenges relating to relocations in domestic disputes.
As a companion volume to "Child Custody Assessments: A Resource Guide for Legal and Mental Health Professionals", it is intended to delve into more detail into a number of difficult child custody situations including:
• moves and relocations, especially relocations in high-conflict situations
• understanding domestic violence and its impact on families
• differential assessments and the courts' perspective in high conflict situations
• sexual abuse allegations
• child alienation and its impact on families together with judicial remedies,
• many other resources, guidelines and tools for both legal and mental health professionals.
This resource also includes up to date lists of current literature in the area, provincial legislation tables, assessment frameworks and tools, precedent parent-child contract agreement, a detailed analytical index and table of cases.
Book Details
Binding: soft cover
Pages: 385
Publisher: Carswell
Publication date: 2008
Authors
Barbara Jo Fidler
Nicholas Bala
Rachel Birnbaum
Katherine Kavassalis