Winning Negotiation and Mediation Strategies in Divorce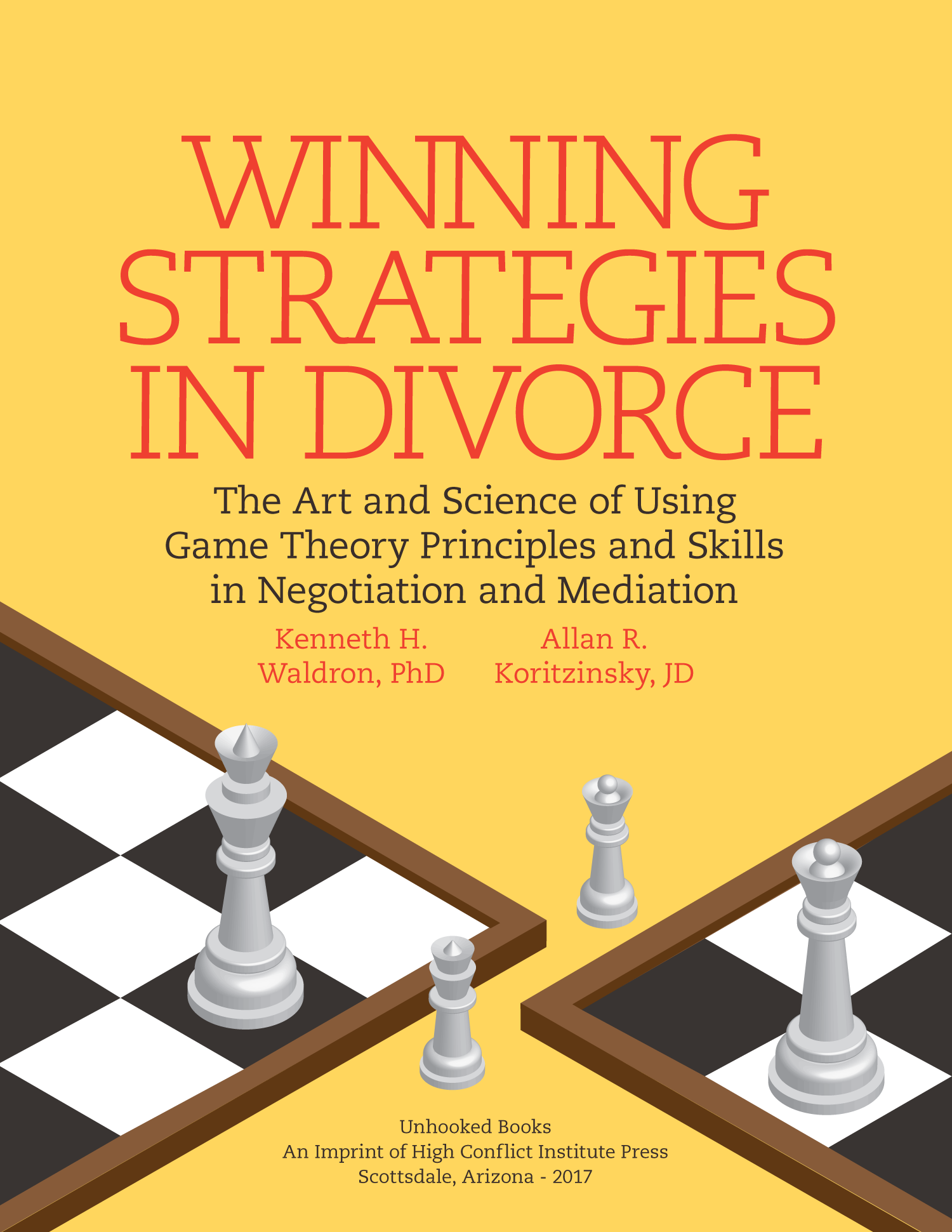 Winning Negotiation and Mediation Strategies in Divorce
Winning Negotiation and Mediation Strategies in Divorce
The Art & Science of Using Game Theory Principles and Skills in Negotiation & Mediation
NOTE: This book is available only as a PDF. After your purchase, your email receipt will contain a link to the PDF document, which you may download and store on your device.
This book is an expansion on the author's' book, Game Theory and the Transformation of Family Law. However, it is not a restatement of it. While some of the same territory is covered, and readers of this book will recognize Principles explained in Game Theory, the exploration is from a different angle and includes new information.
***Save $14.95 when you purchase Game Theory and the Transformation of Family Law together with Winning Strategies. You must click here to receive the special price.
In addition, the authors specifically explore what they intuitively know about the traditional family law system and about traditional mediation and negotiation as dispute resolution processes. They do this through the practical lens of Game Theory.
The book, Game Theory and the Transformation of Family Law, has some practical applications, but is more theoretical. This book is more useful and pragmatic. However, analyzing and explaining the problem is like complaining without a solution. The authors offer this book as just such a solution.
From the Authors
The true test of Game Theory is whether or not we can use it to design a family law system that works better for people going through a divorce or separating never-married parents. In Game Theory and the Transformation of Family Law, we proposed such a system. In this book, we strive to present more specifically how those Principles can apply in practical and pragmatic ways to mediation and negotiation.
Both of your authors have applied these Principles to real cases in mediation, and Allan has applied them in negotiation, covering all aspects of child issues (such as residential schedules and proposed relocation), and all aspects of financial resolution (such as property division and support). Realistic examples are provided throughout the book illustrating the application of our Game Theory Principles, although enough facts are changed to protect the privacy of clients (when they are based on real cases).
To gain a full understanding of the application of Game Theory to family law, we strongly suggest that you read Game Theory and the Transformation of Family Law. The Principles of Game Theory are given more extensive treatment in that book than in this book. However, we have tried to write this book as a stand-alone text, explaining Game Theory, analyzing the current family law system and applying the Game Theory Principles and skills specifically to mediation and negotiation.
This Book is Practical and Hopefully Interesting and Useful.
We have organized the Principles and Skills slightly differently in this book when compared to the former book, and the reader of both books will notice these differences. Our purpose in this book is to make Game Theory as practically applicable to the reality of what happens in mediation and negotiation as possible. We also have tried to minimize the use of mathematics and stick to easily applied Principles and Skills, but keep in mind that those Principles and Skills are undergirded by research and mathematics. We have also attempted to minimize Game Theory jargon, but some is necessary. Jargon can be a shortcut to understanding a complex principle. Most important, we hope that readers find this book interesting, perhaps enlightening, but most of all useful.
To Law Students and the Next Generation of Family Law Attorneys: This Book is for You.
Established attorneys might or might not make the mindset changes proposed in this book. This is likely to be particularly true of successful established attorneys. It might also be true of long-time practicing attorneys, because the traditional family law mindset might be so encrusted that change would be very challenging.
As an alternative, it is our fervent hope that new family law attorneys will follow our Game Theory Principles and utilize our proposed new Skills and recapture the divorce market, especially because people going through a divorce (such an important transition) need Guides. The next generation of family law attorneys can be these guides.
If law students read this book, perhaps this transformation will occur in the next generation of family law attorneys. Law students will also benefit from our prior book, Game Theory and the Transformation of Family Law, because it lays the foundation for the theory under girding practice of this approach.
Our first book is the primer on the application of Game Theory, hopefully setting it in a practical and pragmatic context. This book represents the logical progression of our thinking, which we hope will finally launch the transformation of family law.
Book Details
Publisher: High Conflict Institute Press
Publication date: 2017
Binding: PDF
Pages: 222
ISBN (PDF): 978-1-936268-07-8
Corresponding Materials
CoParenting Training Workbook: For Separating or Separated Parents
Divorce Workbook: Forming an Effective Team
Game Theory and the Transformation of Familiy Law
The Authors
Kenneth H. Waldron, Ph.D., currently works at Monona Mediation and Counseling in Wisconsin. He was educated as a child psychologist, specializing in child and adolescent psychology and adoptions. He was trained in divorce mediation in the late 1970's and began working with families in the context of the family law arena. By 1985, he had a practice devoted solely to family law work. He performed custody evaluations for several jurisdictions in California, developed a mediation practice and also developed one of the early parent education programs for parents. He also developed a treatment model for coparenting counseling, which over time has expanded to include specialty treatment programs for unique problems, such as parent-child estrangement. He helped establish the parent education program in Madison Wisconsin and helped design and establish a group coparenting counseling program in Illinois. He has served as expert witness in numerous states and in Canada, both as family evaluator and as expert on social science research related to divorce. He has been trained in collaborative Divorce as Child Specialist and Coach.
Dr. Waldron has presented on topics related to families with divorced/separated parents in jurisdictions around the United States to lawyers, judges, mediators and mental health practitioners. He regularly has presented to students at the University of Wisconsin Law School. He has published in both local and nationwide journals on various topics related to children of divorce and has published books on parent education and the effects of divorce on children.
Dr. Waldron is a founding member of the Wisconsin Chapter of the Association of Family and Conciliation Courts (AFCC) and is currently on the board of the chapter. He has also served on the board of the Wisconsin Inter-professional Committee on Divorce. His current practice is devoted to serving as a court-appointed expert, performing custody evaluations and testifying to social science research, divorce mediation, coparenting counseling, and specialty counseling for problems associated with divorce.
Allan R. Koritzinsky, Esq., is a retired partner with Foley & Lardner LLP where he was a member of the General Commercial Litigation, Tax & Individual Planning and Estates & Trusts Practice Teams. He was also the Chair of the law firm's Family Law Team. As a family law attorney representing individual clients for over 50 years, Mr. Koritzinsky focused on divorce law and alternative dispute resolution. He also worked with colleagues in estate and business planning and real estate transactions. He also had experience in tax, valuation and fiduciary litigation matters.
A native of Wisconsin, Mr. Koritzinsky earned his undergraduate degree in history and his law degree from the University of Wisconsin – Madison. He is admitted to practice law before the United States District Court for the Eastern and Western Districts of Wisconsin, United States Courts of Military Review and Appeals in Washington, D.C., the United States Seventh Circuit Court of Appeals and the United States Supreme Court.
Mr. Koritzinsky was active in the following professional organizations: Fellow of the American Academy of Matrimonial Lawyers (AAML) (1977- 2009); Diplomat in the American College of Family Trial Lawyers (1977- 2009); Member of the national AAML Board of Governors (1994-1997); former National Chair of the AAML Arbitration Committee and a Past President of the
Academy's Wisconsin Chapter; former Chair of the Dane County Bar Case Mediation Program; named a Wisconsin Super Lawyer (Law & Politics Media, Inc.)- 2005- 2008; listed in The Best Lawyers in America® for over 25 years. Mr. Koritzinsky was the 2011 recipient of the State Bar of Wisconsin Senior Lawyers Division Leonard L. Loeb Award for "important contributions… made to your clients and to your community through your legal expertise and personal dedication…"
Mr. Koritzinsky has lectured in lawyer and judicial continuing education seminars throughout his career and was a Lecturer/Instructor at the University of Wisconsin Law School. While in Viet Nam (1967-1968), he taught full semester courses in Comparative Law and Introduction to American Law at the University of Saigon Law School.
Mr. Koritzinsky is the author of numerous articles and several books, including:
• Game Theory & the Transformation of Family Law: Change the Rules, Change the Game
• Game Theory Divorce Workbook
• Tax Strategies in Divorce
• Family Law Casenotes & Quotes