The 9 Daily Habits of Healthy People
The 9 Daily Habits of Healthy People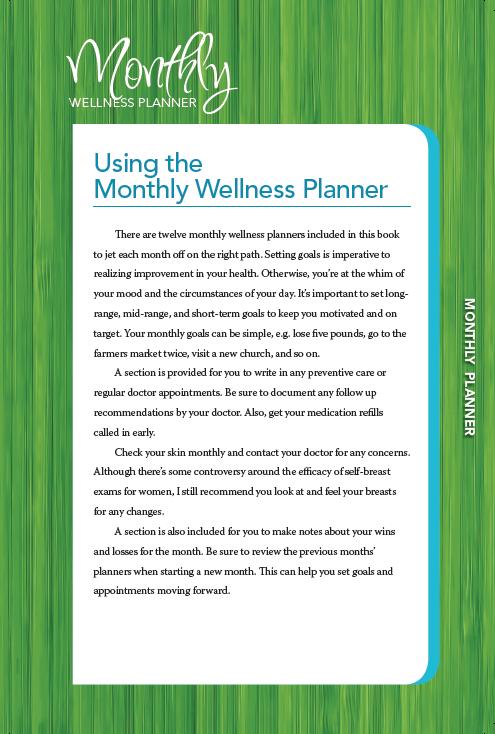 The 9 Daily Habits of Healthy People
By Melanie Lane, MD
An amazing life doesn't happen to us by accident. It takes thoughtful consideration and consistent daily practice of life-affirming behaviors. Fuel those habits with a powerful sense of life purpose and you have a game plan for success.
Repeat Dr. Lane's nine research-proven actions every day (or even most days), and you'll be well on your way to a life of freedom, joy, and vitality. The 9 Daily Habits of Healthy People puts wellness within your reach. sense of life purpose and you've got a game plan for success.
This is a wellness planner to plan your annual, monthly and daily health and wellness goals. It includes:
1 annual planner
12 monthly planners
90 daily planners
The 9 Daily Habits of Healthy People Planner simplifies things by:
Presenting you with the unexpected key to vivacious living
Spelling out exactly which behaviors add maximum to your life
Helping you plot and practice new behaviors until they become ingrained habits
Book Info
Publication date: 2012
Size: 6″ x 9″
Binding: spiral
Includes: 1 Annual Planner; 12 Monthly Planners; and 90 Daily Wellness Planners
Author: Melanie Lane, MD, CPCC
ISBN: 978-1-936268-41-2
Author
MELANIE LANE, MD, CPCC, is CEO of Dr. Lane, Healthy Living Coach and ZING! Empowerment Coaching, where she coaches people struggling to achieve better health. She educates, inspires, and empowers her clients to design and actually integrate a healthy, fulfilling, enjoyable lifestyle.
She is a board-certified Family Physician who favors promoting wellness over treating illness. Beyond her medical career, her passion for coaching others blossomed from the belief that a wise, healthy self already thrives within each of us and that we can lead long, healthy, meaningful lives when we set the wisdom of that healthy self free.
She received her Professional Co-Active Coach Certification from the prestigious Coaches Training Institute in San Rafael, CA in July of 2010.
Her clients, both local and national, come from a variety of backgrounds. Some seek her expertise to achieve greater physical fitness and lose just a few pounds, while others grapple with the life threatening illnesses that result from lifelong morbid obesity. She is based in Peoria, Arizona.